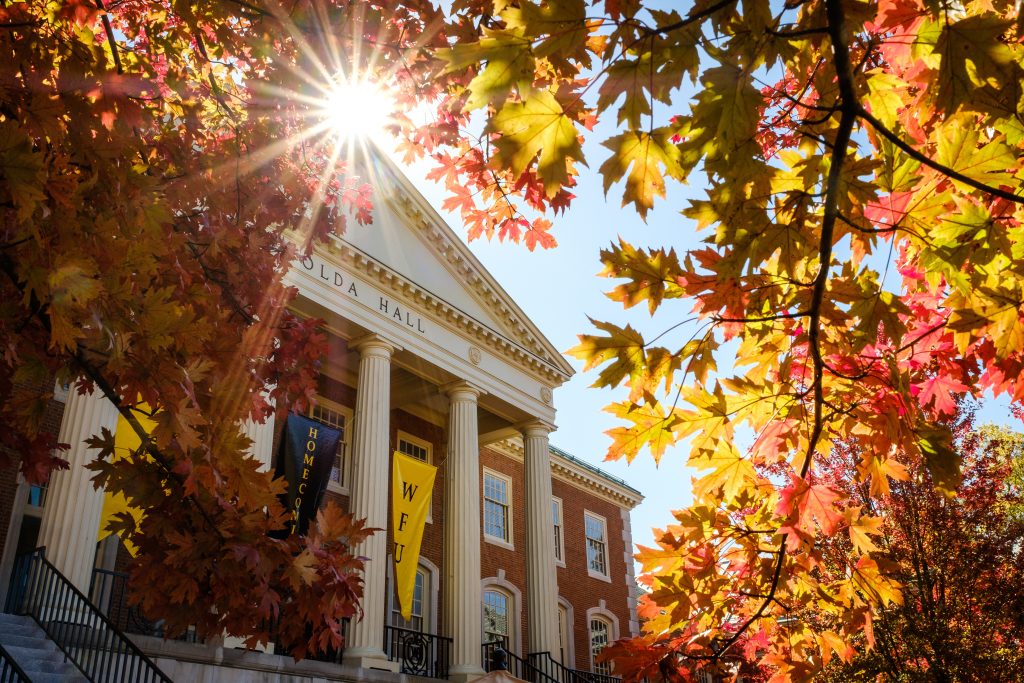 Welcome Back!
The Class of 1992 will celebrate our 30th reunion September 16-18, so mark your calendars and make plans to be back for this milestone event.
Event Overview
Friday afternoon from 4:30-7:00 p.m., put your dancing shoes on and join us under the big tent to hear Kool and the Gang at Party So Dear.
From 7:30 – 10:30 p.m. will be our 30th Reunion celebration in the Reunion Party Village on Poteat Field where we'll get to see friends in our class while other classes celebrate nearby.
On Saturday, we will enjoy the Festival on the Quad, the Alumni Tailgate, and the WFU/Liberty football game. Football tickets will be sold directly through the ticket office beginning June 1. Registration for all other events will be open in July.
Since almost all of the events will be outdoors, please plan to dress for the weather. Keep checking this website for updated information as the weekend gets closer.
We look forward to seeing each of you for this memorable event!
Go Deacs!
Betsy Brakefield Funk and Bob Ramseur
Class of 1992 Reunion Committee Chairs
---
Class of 1992 Reunion Campaign
We have already surpassed our dollar goal, but need our class to come together to reach our goal of 170 donors by homecoming.
For a complete list of ways to give, please click here.
$437,212 of $375,000
Learn about the Reunion Campaign »

Reunion Details
30th Reunion Celebration
7:30-10:30 p.m.
Reunion Party Village on Poteat Field
Join class members for our reunion celebration. Enjoy food and beverages while catching up with friends. This event will take place immediately following Party So Dear.
Attire: Black & Gold Casual
1992 Reunion Committee Chairs
Betsy Brakefield Funk
Bob Ramseur
1992 Reunion Committee
Lindsay Bishop
Alice Carlton Bragg
Sydney Nightingale Broaddus
Amy Wyn Burton
Cathy Myers Carlino
Betsy Jensen Chapman
Patrick Day
Suzanne Nifong Dellinger
Amy Miller Denny
Chris Devine
Rosalyn Morgan Devine
Heather Hamby Edmiston
Betsy Brakefield Funk
Kwamine Washington Gilyard
Kim Fowlkes Grant
Scott Hagaman
Ashley Hairston
Laura Crump Harrell
David Inabinett
Lisa Faircloth Kelly
Charlie Kennedy
Helen McWhorter Kennedy
Perri Helms Kersh
Wendy Isil Kulunas
Charles Lambert
Leigh Anne Clark Lambert
Jonathan Lehman
Peter Lovett
Susan Shumaker McGinn
Barbara Sherman Meeks
Shannon Milhako
Douglas Nesbit
Suzy Edmiston Owens
Bob Ramseur
Lissa Boettger Ready
Ken Redding
Rich Schmidt
Keith Shackleford
Heather Gould Smith
Hinton Taylor
Tracy Strickland Taylor
Nichola Marshall Timmons
Lauren Gentry Titus
Nancy Rodwell Tuohy
David Upchurch
Dave Villiger
Rod Webb
Kathryn West
Paul Wingate
For Questions?
reunion@nullwfu.edu
Class of 1992 Howler