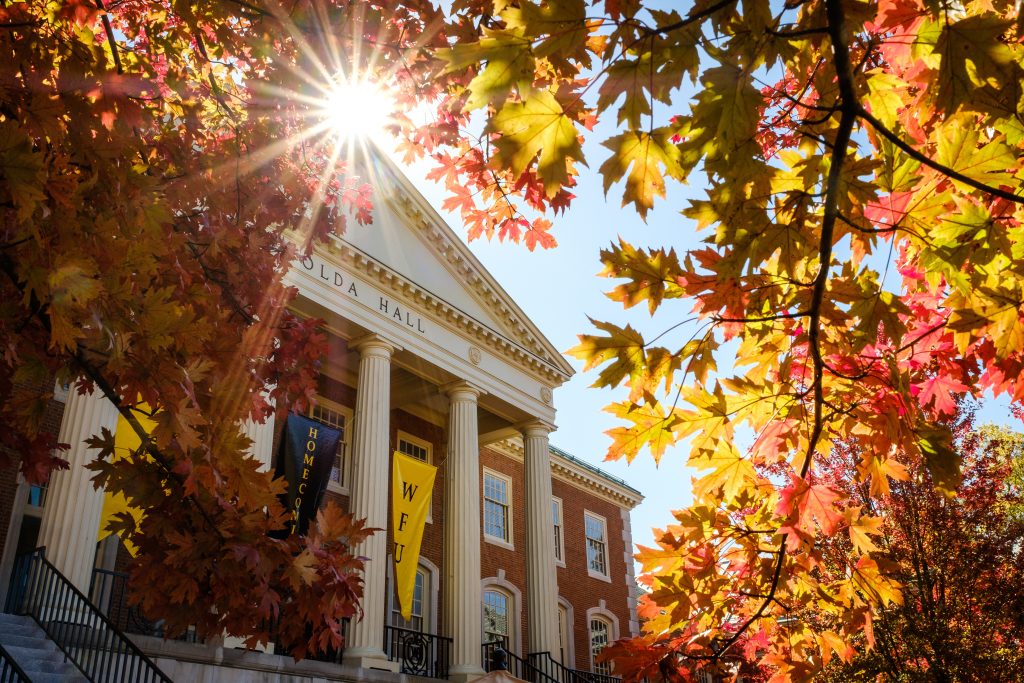 Welcome Back!
The Class of 1977 will celebrate our 45th reunion September 16-18, so mark your calendars and make plans to be back for this milestone event. This year's Homecoming and Reunion Weekend promises to be bigger and better than ever.
Event Overview
Friday afternoon from 4:30-7:00 p.m., put your dancing shoes on and join us under the big tent to hear Kool and the Gang at Party So Dear on Manchester Plaza (Mag Quad).
From 7:30 – 10:30 p.m. will be our 45th Reunion celebration in the Reunion  Party Village on Poteat Field where we'll get to see friends in our class while other classes celebrate nearby.
On Saturday, we will enjoy the Festival on the Quad, the Alumni Tailgate, and the WFU/Liberty football game. Football tickets will be sold directly through the ticket office beginning June 1. Registration for all other events will be open in July.
Since almost all of the events will be outdoors, please plan to dress for the weather. Keep checking this website for updated information as the weekend gets closer.
We look forward to seeing each of you for this memorable event!
Go Deacs!

Glenn Cook
Dori Bendall Walk
Class of 1977 Reunion Committee Chairs
---
Class of 1977 Reunion Campaign
For the Class of 1977, we need your help in reaching our class dollar goal of $377,000 and our donor goal of 33% or 165 class members to the The Wake Forest Fund. If you haven't made your gift yet, please do soon! The campaign started July 1, 2021, and will continue through Homecoming Weekend.
$368,533 of $377,000
Learn about the Reunion Campaign »

Reunion Details
45th Reunion Celebration
7:30-10:30 p.m.
Reunion Party Village on Poteat Field
Join class members from both classes for our reunion celebration. Enjoy food and beverages while catching up with friends. This event will take place immediately following Party So Dear.
Attire: Black & Gold Casual
1977 Reunion Committee Chairs
Glenn Cook
Dori Bendall Walk
1977 Reunion Committee
Kathie Amato
Rich Bidlack
Arthur Bingham
Elaine Cooke
Jeff Dobbs
Gin Reid Hall
Rick Hazlett
Merle Henkel
Ina Blackmore Kamenz
Gary Lambert
Charles Little
Cathy Tull Liverman
Marc Miller
Gary Muller
Scott Nowlan
Barbie Smith Selby
Mike Sherrill
Joe Sills
Eric Sternberg
Robin Team
Mark Williams
For Questions?
reunion@nullwfu.edu
Class of 1977 Howler