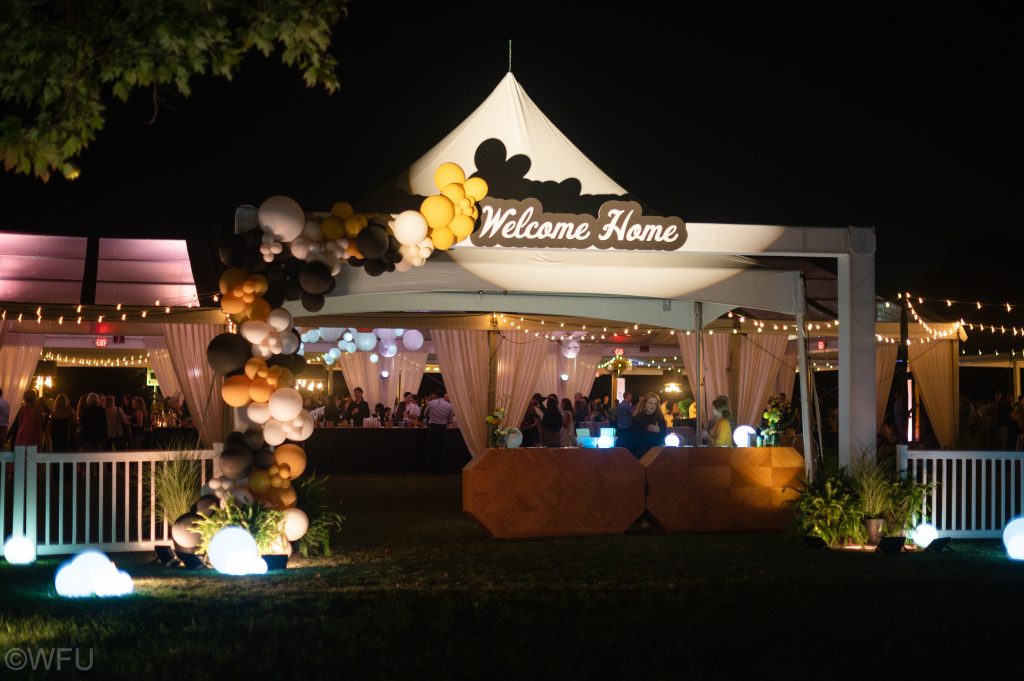 Welcome Back!
It's time for the Class of 1988 to celebrate our 35th reunion. Mark your calendars for October 20-22 and make plans to come back and celebrate where it all began!
Event Overview
Homecoming Weekend is going to be bigger and better than ever before, so be sure to make plans to be in town Friday afternoon for Party So Dear beginning at 4:30 p.m. Then Friday night we will gather on campus in the Reunion Party Village for our class party to celebrate 35 great years. On Saturday, enjoy the Festival on the Quad and Campus Open House, the Alumni Tailgate and the WFU/Pitt football game to name a few highlights. Game tickets will are available directly through the ticket office. (336)758-3322, godeacs.com More exciting plans for the weekend are being finalized, so check back for updates.
We've already reached our dollar goal, but need many more class members to join with us in reaching our participation goal. If you haven't made your gift to the Wake Forest Fund yet, please do soon! We would like for at least 21% of class to join together for Deacs helping Deacs. The campaign started July 1, 2022 and will continue through Homecoming Weekend.
We hope you'll make plans to join us for a memorable weekend! Contact your friends, make your hotel reservations, and keep checking this website and WFU Class of 1988 Facebook page for more information as the weekend gets closer. We'll see you October 20-22!
Go Deacs!
Susan Parks Keiser, Ellen Brown Landers and Bruce Thompson
1988 Reunion Committee Chairs
Durann (Williams) Archer ('88)
Ed Balogh ('88)
Heidi (Klug) Bass ('88)
Mark Bass ('88)
Lisa Bell ('88)
Rives Bird ('88)
Anna (Mast) Booth ('88)
John Bragg ('88)
Cecelia Brock ('88)
Laura Buckley ('88)
Margaret (Jones) Caput ('88)
Joe Carter ('88)
Lisa (Kemp) Carter ('88)
Amy (Carter) Carter-Stewart ('88)
John Chinuntdet ('88)
Kevin Church ('88)
Catherine (Hancock) Coleman ('88)
Tonya (Crowe) Crowe-Chinuntdet ('88, MD '92)
Kristan (Wieland) Curry ('88)
Kellie (Hill) DeMayo ('88)
Rob DiBella ('88, MBA '97)
Lynn (Oetzman) Dixon ('88)
Gregg Eiband ('88)
Bryan Elie ('88)
Anne (Shumate) Gordon ('88)
Stephanie (Casto) Gregory ('88)
Ken Halanych ('88)
Cliff Hamner ('88)
Susie (Taranto) Hartness ('88)
Laurie (Howard) Hembree ('88)
Jodi (Krom) Herman ('88)
Scott Herman ('88)
Eric Hill ('88)
Eric Hunsley ('88)
Frank Ioppolo ('88)
Pat Jermain ('88)
Eric Johnson ('88)
J J Joseph ('88)
Kathryn (Mallory) Justis ('88)
Susan (Parks) Keiser ('88)
Pat Kern ('88)
Greg King ('88)
Ellen (Brown) Landers ('88)
Sinclair Lee ('88)
Mia (Eskridge) Leftwich ('88)
Ginny (Williams) Little ('88, MBA '94)
Rick Lucas ('88)
Walt Martin ('88)
Nora (Baldwin) McChesney ('88)
Bill McKibbin ('88, MBA '94)
Scott McLeod ('88)
Anne (Garner) Miller ('88)
Bob Millikan ('88)
Randy Norris ('88)
Dave Obenauer ('88)
Laura (Lassiter) Oliver ('88)
Julie Pash ('88)
Beth (Daniels) Paul ('88)
Helen (Stamidis) Pentikis ('88)
Louise (Compton) Popyk ('88)
Michelle (Whicker) Price ('88)
Tom Reilly ('88)
Chris Ryan ('88)
Liz (O'Connor) Seely ('88)
Dave Siegel ('88)
Linda (Sink) Smith ('88)
Sander Smith ('88)
Tim Snyder ('88)
Martha (Abernethy) Sowers ('88)
Diana Stegall ('88)
April Stephens ('88)
Pam (Muller) Swartzberg ('88)
Bruce Thompson ('88, JD '94)
Doug Townsend ('88)
Tom Valaoras ('88)
Cheryl (Van Riper) Walker ('88)
Alyce Warden ('88, JD '94)
Maggie (Van Dyke) Warren ('88)
Margaret (Demopoulos) Welliver ('88)
Meg (Moreland) White ('88)
Catherine (Phillips) Wood ('88)
Brian Woodrick ('88)
Krista Young ('88)
Wendy Young ('88, MS '89)
---
Class of 1988 Reunion Campaign
$276,287 of $250,000
Learn about the Reunion Campaign »

Reunion Details
35th Reunion Celebration
Friday, October 20
7:30-10:30 p.m.
Reunion Party Village on Poteat Field
Join class members for our reunion celebration. Enjoy dinner buffet, open beer & wine, and a DJ while catching up with friends. This event will take place immediately following Party So Dear.
Attire: Black & Gold Casual
$40 per person

1988 Reunion Committee Chairs
Susan Parks Keiser
Ellen Brown Landers
Bruce Thompson
1988 Reunion Committee
Web Alexander
Elizabeth Castleman Allen
Vince Andracchio
Ed Balogh
Jennifer Cullom Barksdale
Lisa Bell
Cliff Benson
John Bragg
Cecelia Foy Brock
Lisa Kemp Carter
John Chinuntdet
Matt Crawford
Jana Harrell Daley
Rob Dibella
Scott Hill
Frank Ioppolo
Greg King
Liz O'Connor Seely
David Siegel
Tim Snyder
Martha Abernethy Sowers
Doug Townsend
Cheryl Van Riper Walker
For Questions?
reunion@wfu.edu
Class of 1988 Howler