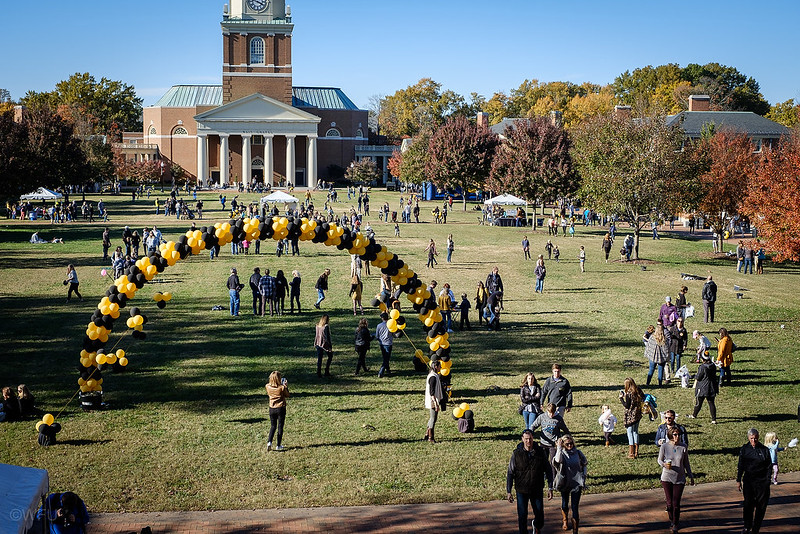 Reunion Classes, It's time to Get Your DeacON!
Here are all of the details for the weekend!
General Information for Everyone:
Health & Safety of our guests is our number one priority for the weekend. While proof of vaccination isn't required for guests, we encourage vaccinations for all. Over 97% of our campus community is vaccinated. We greatly appreciate the willingness of everyone in the Wake Forest community to adhere to and follow health and safety guidelines to support the safety of all Wake Foresters. If you are feeling ill, please do not come for the weekend.  We are hosting all of the weekend events outside in tents except for the Golden Deacs program on Friday and the Service of Remembrance and the Homecoming Worship Service on Sunday.  Those will be masked and indoors.  Access to campus buildings is limited to Reynolda Hall, Benson University Center, ZSR Library, and Wait Chapel.  Masks are required when indoors. 
We will be having a combination of pre-packaged items and buffets throughout the weekend.  Hand sanitizer and food service gloves are provided at every buffet and we ask that guests wear a mask when going through the buffets on campus and at the tailgate.   For a complete overview of Wake Forest's COVID policies, please visit Our Way Forward 
As a reminder, all events will be held outside rain or shine, so check the weather and dress accordingly and be sure to wear appropriate footwear! For any weather-related updates please visit homecoming.wfu.edu.  Pro-Tip: Leave your suede shoes and stilettos at home!
Parking and Shuttles Parking on campus is limited, especially for Friday afternoon. You may park on campus wherever you find a parking space. On Friday, complimentary shuttles will run from 2400 Reynolda from 12 p.m. – 11 p.m. Look for the shuttle stop sign in front of the library and at Poteat Field (beginning at 7 p.m.).  For those attending events on Poteat Field and Farrell Hall consider parking in Lots W1, W2 or Q. Uber and Lyft are available in Winston Salem along with cab and private transportation companies, if you need transportation to and from campus.  Parking on Saturday is available in Faculty/Staff lots around campus.  There will be no shuttle service on Saturday.
Homecoming Welcome Center will be located under the tent behind Reynolda Hall (Manchester Plaza level) from 11 a.m. – 10 p.m. on Friday, October 29. Pick up registration packets for reunion parties and/or Alumni Tailgate tickets. New this year: Football tickets will be sent from the WF Ticket Office by end of day Wednesday to the email address used to register.  Look for an email from tix@nullwfu.edu. On Saturday, remaining packets will be on the Quad in front of Reynolda Hall from 9 a.m. – noon and then at the Alumni Tailgate at the Fairgrounds beginning at 1:00 p.m.
Who's Coming Back Lists:  Select your reunion class above, then scroll to the bottom of your class reunion page for the lists.
Name tags:  Are being printed ONLY for alumni attending the Golden Deacs and/or a class reunion event.  This is your name tag for the weekend. For those just attending Party So Dear or the Alumni Tailgate you will not have a pre-printed name tag.  New this year: In order to make names as large as possible, we only listed reunion undergraduate class year. Professional degrees and parent years were intentionally not included.  
Golden Deacs 3:00 – 4:30 with registration desk opening at 2:30 p.m. in Benson 401.  Please see below for more information
Party So Dear will be on Manchester Plaza (Mag Quad behind Reynolda Hall and beside Tribble) from 4:30 p.m. – 7 p.m. (No entry before 4:30 p.m.) New this year: Tickets are not required. Guests may come to one of the two entrances. Bags and IDs will be checked at the entrances. 21+ will receive a hand stamp and 1 complimentary bar ticket. Additional wine/beer tickets may be purchased from the drink ticket kiosks (located inside Party So Dear and at the Homecoming Welcome Center by credit card). The program and concert will begin at 5:15 p.m. As soon as the Commodores concert and Party So Dear conclude at 7 p.m., guests will need to exit the area so that reunion parties may begin at 7:30 p.m. There are two reunion parties using the space following Party So Dear. 
Reunion Parties for 5th – 50th will be on campus from 7:30 – 10:30 p.m.and the 55th will be at Old Town Club form 6:30 – 9:30 p.m..  See below for more information.
Festival on the Quad will be Saturday from 9 a.m.- Noon on Hearn Plaza. The Quad will be filled with food, music, face painters, games, and many other fun surprises. Many departments and organizations will be bringing their "open house" to the Quad. Come play along, sing along, share stories, or just visit with The Unbroken Circle and other "Friends of Billy Hamilton," on the Mag Patio from 10 a.m. – 12 p.m., October 30 as we honor the memory of Wake Forest's," Dean of Bluegrass."
Alumni Tailgate will be Saturday from 1 – 3:30 p.m. at the fairgrounds next to LJVM Coliseum which is a new location for this year. Enter from the  LJVM Coliseum parking lot or walk through the tunnel underground from the stadium. See the map here. If you registered for a tailgate ticket, there will be a packet for you to pick up at the Homecoming Welcome Center on Friday from 11 a.m. – 10 p.m., on Saturday on the Quad from 9 a.m. – noon, or at the tailgate.  Adult wristbands (black) include two drink vouchers for beer/wine, 1 medium Kona ice, or 2 cannolis from the Cannoli Man. Child wristbands are yellow smiley faces and they can show their wristband for 1 cannoli.  Bottled water and sodas are available free of charge in ice troughs throughout the tailgate. Additional cannolis, alcoholic beverages, and Kona Ice may be purchased directly from the vendors. Tickets/wristbands are only required to go through the food line.
Tailgate Menu:
Pulled Pork BBQ with BBQ Sauce
Grilled Chicken Breast with rosemary mustard glaze
Vegetarian 'Cue – Chickpeas and Tofu in a BBQ sauce
Sandwich Buns
BBQ Baked Beans
Creamy Cole Slaw
Red Bliss Potato Salad
Mini Salad Bar
Fresh Cut Fruit
Football Game will be a "BLACK OUT" game which means wear BLACK, COME EARLY, BE LOUD, and STAY TO THE END to cheer on our 13th ranked, 7 – 0 Demon Deacons at 4 p.m. at Truist Field!!!! 
Remember you have mobile tickets, so you either need to have them on your phone, print a paper copy with the QR code, or both.  The easiest way to share a ticket to someone who doesn't have a Deacon Club account, is to pull up the ticket and screenshot it and then text it to your guest.  Guest parking is in the coliseum lot ($20 cash).  The stadium has a clear bag policy and you will be asked to go through metal detectors.  Masks are not required in the stands, but guests are asked to wear masks in the concourse and in restrooms.  If you need Gameday assistance please call 336.758.GAME(4263).  For complete details on parking, prohibited items, stadium map etc. please visit Football Gameday Information.
Service of Remembrance will be Sunday at 10:30 a.m.in Wait Chapel followed by the Homecoming Worship Service at 11 a.m. with Dr. Mike Queen ('68, P '94, GP '23), retired senior minister for First Baptist Wilmington, NC.  There will be a brief intermission between the two services.  Masks are required.
Golden Deacs & Reunion Information:
Golden Deacs (Class of '71 and older) will gather at 3 p.m. in Benson University Center Suite 401 to hear from President Susan Wente, for the induction of the classes of 1970 & 1971, and to receive 50 year pins. Registration packets may be picked up from 11 a.m. – 2 p.m. at the Homecoming Welcome Center under the lower tent behind Reynolda Hall. At 2 p.m., Golden Deacs packets will be moved to the Benson Front Patio and will be available for pick-up beginning at 2:30 p.m. Weather permitting, there will be some spaces available on Davis Field for Golden Deacs to park and the outer loop of Lot A (West chapel lot). Masks are required at the indoor portion of this event and no food or beverages will be served while indoors. When the program concludes, this group will have early access to the Party So Dear tent, so please proceed down to Manchester Plaza for some refreshments and early access to the bar. Dress is black & gold casual or whatever makes you feel fun and  festive.  
Reunion Classes and Events will begin at 7:30 p.m. on campus. New for this year: If you haven't picked up your packet by 7 p.m., the 50th, 45th, 40th, 35th, and 30th reunion packets will remain at the Homecoming Welcome Desk and will not move to the individual parties.  The 25th Reunion packets will be at Farrell Hall, and for the 20th, 15th, 10th and 5th they will be at the check-in tents at Poteat Field.  Also, new for this year:  Wristbands are your party ticket and will give you access to food and beverages. Pro tip: Go ahead and put on your wristband as soon as you receive your packet.
For detailed information on your specific reunion class, reunion campaign, and class committees, please select your milestone reunion from the above list.
55th:  Old Town Club Pool Pavilion, 6:30 – 9:30 p.m. – 2875 Old Town Club Road, Please park in the club parking lot and take the outside sidewalk down to the pool area.  The pavilion will be to the left.  If you are only planning to attend your class event at Old Town Club, your name tag will be at that event and there is no need for you to come to campus.  If you are planning to attend events on campus, your registration packets, name tags and reunion party tickets (ticket not wristband) will be with the Golden Deacs registration packets.  This is not a seated dinner with a program type event. The bar and the "When in Winston" buffet will be open beginning at 6:30 p.m. for a floating mix & mingle event.  The evening's attire will be nice casual, so khakis, button down/sweater.  May want to have a coat or jacket since we will be outdoors.
On Campus Parties are in the following locations:
5th, 10th, 15th and 20th: Reunion Village on Poteat Field (designated class tents with a central bar tent)
25th: Back patio of Farrell Hall (please enter from Wait Chapel side of building)
30th: Fire Pits on Manchester Plaza (Mag Quad) – (can enter from either side of Manchester Plaza)
35th:  Party So Dear Tent (enter from the Benson/Tribble Side)
40th:  Party So Dear Tent (enter from the Greene Hall/Carswell Hall side – former law school)
45th: Benson Front Patio (please enter from center front stairwell)
50th: Reynolda Hall, Mag Patio and Green Room 
Stay on campus after Party So Dear and enjoy the evening with your friends in our two Reunion Party areas.  Plenty of food for dinner and an open beer & wine bar, so there's no reason to go anywhere else!  Dress is black & gold/fun & festive casual.  Please wear your Reunion Party Ticket wristband to access the buffet and to be served at the bar.
Menu:
Chilled Shrimp with Cocktail Sauce
Pulled Chicken BBQ
Apple Cider Pork Loin
Black Bean Cakes
Buffalo Cauliflower w/ Corn Salsa
Cole Slaw
Macaroni & Cheese
Fresh Fruit
Marinated Three Bean Salad
Krispy Kreme Doughnuts – late night
Assorted beer, wine, hard seltzer, hard cider and non alcoholic beverages
Photography:  Photographers for the University will be visiting the on-campus parties during the evening, so gather your friends for some photos. Photographs will be available for complimentary download the week after Homecoming.
Other Weekend Event Information please visit homecoming.wfu.edu to find out details on events sponsored by Reynolda House, athletics, academic departments, ZSR Library,the  theater and more.  Last but not least, consider participating in Bring A Kid A Book  In the spirit of Pro Humanitate, bring a kid's book and support the Skip Prosser Literacy Program. Donated books will support Freedom School at Wake Forest University. #GoodWearsBlack
Social Media throughout the weekend be sure use the #WFUHC hashtag and follow on Twitter @WFUAlumni, @WakeForestUniversity and @DemonDeacons #GoDeacs and on Instagram: @WFUniversity and @WFUAlumni