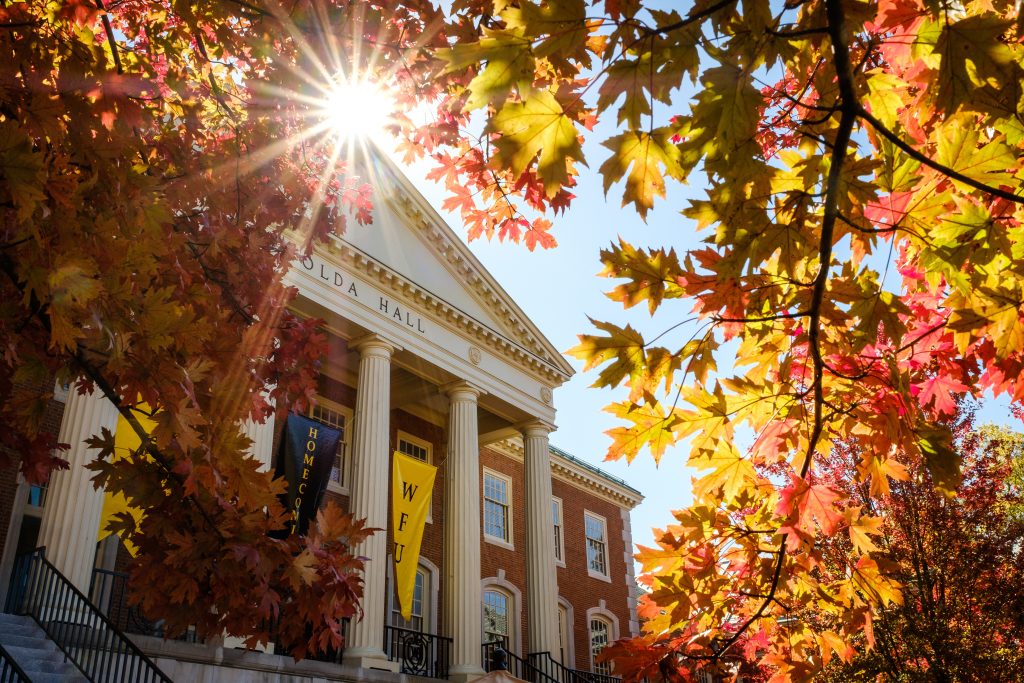 Welcome Back!
The Class of 1967 will celebrate our 55th reunion September 16-18, so mark your calendars and make plans to be back for this milestone event. This year's Homecoming and Reunion Weekend promises to be bigger and better than ever.
Event Overview
Beginning on Friday, we will gather for lunch at the Golden Deacs Event where we will hear from John Currie, Wake Forest's Athletic Director and will welcome the Class of 1972 as they join the Golden Deacs. Later that afternoon, come dance to the music of Kool and the Gang on Mag Quad at Party So Dear!
On Saturday, Join classmates for mimosas and brunch to celebrate your 55th Reunion in the Autumn Room on the second floor of Reynolda Hall, then you can head out to Hearn Plaza to enjoy the Festival on the Quad, followed by the Alumni Tailgate at the fairgrounds, and then to cheer on the Deacs at WFU/Liberty football game. On Sunday, gather in Wait Chapel for the Homecoming Worship Service.
Game tickets will be available for purchase through the ticket office beginning June 1. Homecoming and Reunion Weekend registration will open in July. 
Next Steps
Contact your friends and make plans to be here to see your friends. Keep checking this website for updated information as the weekend gets closer and plans for a safe and fun weekend are finalized.
For Hotel Reservations
5790 University Parkway
(336) 767-9595
Request the Class of 1967 55th Reunion Block
---
Reunion Events
Golden Deac Event
Friday, September 16
11:30 p.m. Welcome Center Opens
12:00 noon Lunch in Benson University Center, Room 401
The Class of 1967 is invited to attend the Golden Deac Luncheon on Friday at noon. as the Class of 1972 is inducted. 
Black & Gold Casual
Class of 1967, 55th Reunion Event Saturday, September 17
10:00 a.m. – 12:00 p.m.
Autumn Room, Reynolda Hall
Join classmates for mimosas and brunch to celebrate your 55th Reunion!
Game day attire
For Questions
reunion@nullwfu.edu
Class of 1967 Howler