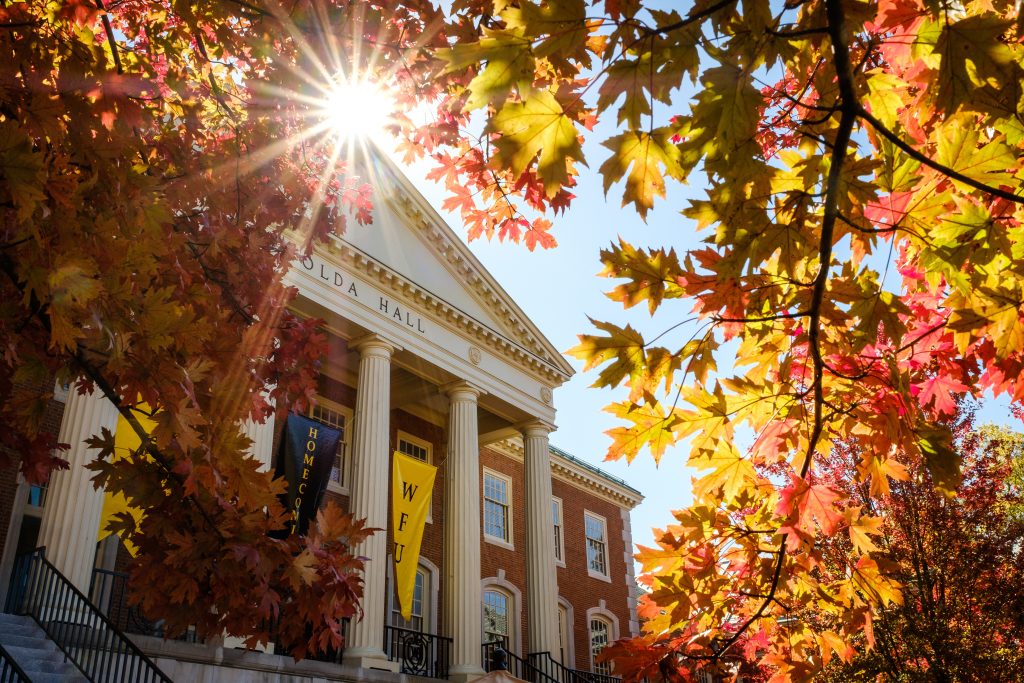 Welcome Back!
The Class 1972 will celebrate our 50th reunion jointly September 16-18, so mark your calendars and make plans to be back for this milestone event. This year's Homecoming and Reunion Weekend promises to be bigger and better than ever.
Event Overview
The festivities begin at lunch on Friday!  We will gather in the Benson University Center to share a meal, hear from John Currie '93, Wake Forest Athletic Director and be inducted into the prestigious Golden Deacs where we will receive our 50-year pins.  After lunch there will be a screening of The History of Wake Forest Women, by Parker Beverly with a gathering in Tribble Courtyard. Then we will move outdoors to the big tent on Mag Quad to hear Kool and the Gang for Party So Dear.  We can catch up with friends, enjoy some refreshments, and sway to music of Kool and the Gang back under the magnolias where it all began.  When Party So Dear concludes at 7 p.m., we will head back to Benson for our 50th Reunion Dinner Celebration.
On Saturday, we will enjoy the Festival on the Quad, the Alumni Tailgate, and the WFU/Liberty football game. Football tickets will be sold directly through the ticket office beginning June 1. On Sunday, join fellow alumni for the the Homecoming Worship in Wait Chapel. Registration for all other events will be open in July.
Since almost all of the events will be outdoors, please plan to dress for the weather. Keep checking this website for updated information as the weekend gets closer for a safe and fun weekend.
We look forward to seeing each of you for this memorable event!
Go Deacs!
John Rosser, Becky Moore Walker and Bob Benson
Class of 1972 Reunion Committee Chairs
For Hotel Reservations
5790 University Parkway
(336) 767-9595
Class of 1972 50th Reunion Block
---
Class of 1972 Reunion Campaign
For the Class of 1972, let's set a new all time class giving record with 40% or 150 class member contributing. We have a goal of $172,000 to the Wake Forest Fund. If you haven't made your gift yet, please do soon! The campaign started July 1, 2021, and will continue through Homecoming Weekend.
$195,359 of $172,000
Learn about the Reunion Campaign »

Reunion Events
Golden Deac Event
11:30 p.m. Welcome Center Opens
12:00 noon Lunch in Benson University Center, Room 401
The Class of 1972 will be inducted into the ranks of the prestigious Golden Deacs and receive your 50-year pin on Friday of Homecoming Weekend.
50th Reunion Celebration
7:00 p.m. Drinks & Nibbles
7:30 p.m. Dinner
Benson University Center, Room 401
Join class members for our reunion dinner and celebration. Enjoy drinks followed by dinner This event will take place immediately following Party So Dear.
Attire: Black & Gold, Fun & Festive
1972 Reunion Committee Chairs
Bob Benson
John Rosser
Becky Moore Walker
1972 Reunion Committee
Jim Bailey
Bob Benson
Donna Boswell
Ed Bradley
Sandra Cook
Fred Cooke
John Cooper
Ed Dalrymple
Retha O'Neal Deaton
Jerry Dockman
Mike Ford
Janet Jackson Frazier
Joyce Gallimore
Bob Hook
Marilyn Gravander Jenkins
Sherry Greenleaf Leblang
Frances Norwood McClain
Cary McCormack
John Mitchell
Jodi Whittington Preslar
Margaret Winstead Rainey
John Rosser
Clark Smith
John Stone
Keith Vaughan
Becky Moore Walker
David Ward
Rick Ware
Davis Williams
Nancy Scheiner Wilson
Ken Wright
For Questions?
reunion@nullwfu.edu
Class of 1972 Howler