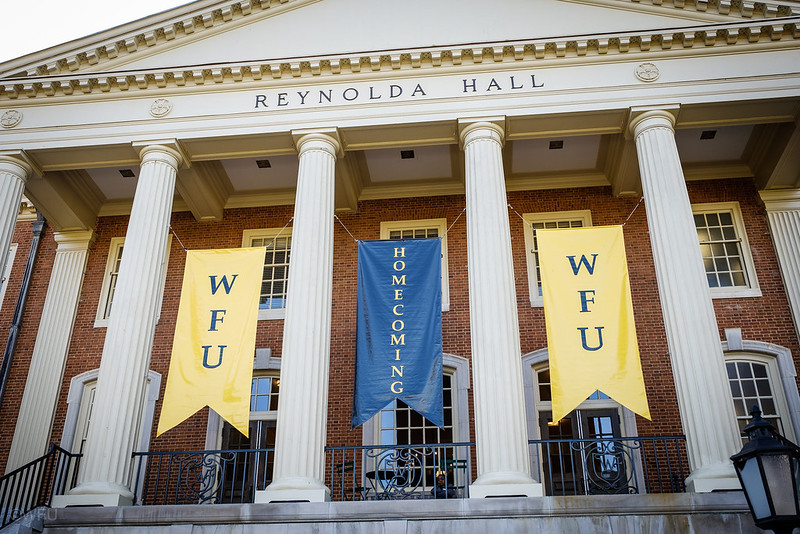 Welcome Back!
The Class 1973 will celebrate our 50th Reunion October 20-22. Mark your calendars and make plans to come back and celebrate where it all began! We can't wait to see you there!
Event Overview
Homecoming Weekend is going to be bigger and better than ever before, so be sure to make plans to be in town by late morning on Friday for the the Golden Deacs Luncheon where we will receive our 50 year pins. That afternoon join the fun at Party So Dear from 4:30 – 7:00 p.m. From there we will move to the Benson Center to celebrate 50 great years at our class dinner. On Saturday, enjoy the Festival on the Quad and Campus Open House, the Alumni Tailgate and the WFU/Pitt football game to name a few highlights. Game tickets will be available directly through the ticket office later this spring. More exciting plans for the weekend are being finalized, so check back for updates. 
We have a BIG ANNOUNCEMENT to share. Our class reunion committee wants to mark this milestone in a significant way by creating an endowed scholarship to help deserving students attend Wake Forest. Committee members have already committed $97,823 towards the goal of $250,000 for the scholarship! Now we are asking you to join with us in supporting the Class of 1973 50th Reunion Scholarship at your most generous level above and beyond your other support of Wake Forest. Collectively, we can make a difference in the lives of current students and be the FIRST class to create an endowed scholarship. More details below.
We're also making great progress toward our $200,000 class goal for reunion year gifts to The Wake Forest Fund. If you haven't made your gift yet, please do soon!  We would like for at least 173 class members, which is 40% of the class, to join together for Deacs helping Deacs. The campaign started July 1, 2022 and will continue through Homecoming Weekend. 
We hope you'll make plans to join us for a memorable weekend! Registration will open later this summer, but in the meantime, contact your friends, make your hotel reservations, keep checking this website and WFU Class of 1973 Facebook page for more information as the weekend gets closer. We'll see you October 20-22!
Go Deacs!
Costi & Teresa Currin Kutteh and Marc & Patricia Wilson Meachum
Class of 1973 Reunion Committee Co-Chairs
Class Hotel
5790 University Parkway
(336) 767-9595
Room rate $209 per night
Please use this link WFU HOMECOMING CL-73 to book directly with the hotel.
---
Class of 1973 Reunion Campaign
$187,096 of $200,000
Learn about the Reunion Campaign »

Class of 1973 50th Reunion Scholarship
First 50th Reunion Class (or any class) to create an endowed academic scholarship
A $100,000 minimum is needed to endow the scholarship. Once the fund has reached the $100,000 cash funded level, the scholarship will begin to be awarded. If the scholarship reaches this level by June 30, then the scholarship could be awarded to a student beginning Fall 2023.  
$250,000 is the goal of the committee for the scholarship.
Types of gifts:

Cash gifts (check, credit card, Donor Advised Funds, family foundations)
Multi-year pledges (up to five years)
Planned estate gifts
Distributions from IRAs
Gifts of securities
Other structured estate gifts
Memorial/honorarium gifts

Scholarship structure:

Based on financial need
Renewable for four years; with minimum GPA being maintained
Awarded by the WFU Financial Aid Office

To make a gift or pledge:

 By Mail:  Please mail your check made payable to Wake Forest University to The Class of 1973 Scholarship, Wake Forest University, PO Box 7227, Winston-Salem, NC 27109
Online:  https://giving.wfu.edu and select "I would like to specify a different fund/department." Then enter Class of 1973 Scholarship
Reunion Events
Friday, October 20
Golden Deac Event
11:00 a.m. Welcome Center
11:45 a.m. Buffet Opens for Lunch in Benson University Center, Room 401
The Class of 1973 will be inducted into the ranks of the prestigious Golden Deacs and receive your 50-year pin on Friday of Homecoming Weekend. Members of the Class of 1973 and one guest are complimentary. Additional guests are $25.
Attire: Black & Gold, Fun & Festive
50th Reunion Celebration
7:00 p.m. Drinks & Nibbles
7:30 p.m. Dinner
Benson University Center, Room 401 Join class members for our reunion dinner and celebration. Enjoy drinks followed by dinner This event will take place immediately following Party So Dear.
Attire: Black & Gold, Fun & Festive
1973 Reunion Committee Chairs
Costi Kutteh
Teresa Currin Kutteh
Marc Meachum
Patricia Wilson Meachum
1973 Reunion Committee
Laney Shackleford Anderson
Tim Barnes
Earl Beasley
Jon Bolton
Jim Branch
Don Brown
Norman Chambliss
Bryan Cobb
Sandie Cummings
Dave Grundies
Nancy Garlick Hemric
Carol Baucom Holden
Chip Holden
Celia Hooper
Beth Norbrey Hopkins
Janice Pope Howerton
Richard Howerton
Powell Jenkins
Pat Jones
Mike Jordan
Nancy Rich Kuhn
Carroll Ann Betzold Miller
Julie Morton
Joe Neal
Gene Pepinsky
Allan Riggs
Sammy Rothrock
Tom Smith
Gary Strickland
Bill Teague
Jeff Triplette
Page Williams
Peggy Welch Williams
Debbie Hartis Yancey
Lindsay Yancey

For Questions?
reunion@wfu.edu or call 800.752.8568
Class of 1973 Howler