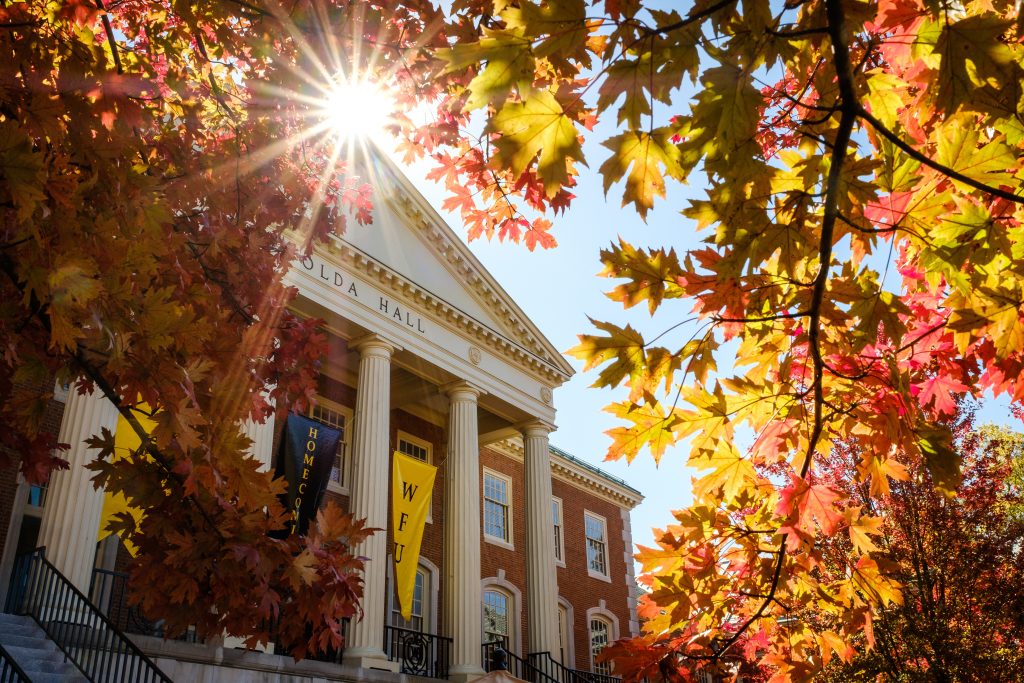 Welcome Back!
The Class of 2012 will celebrate our 10th reunion September 16-18 and we can't wait to see everyone. Mark your calendars and make plans to be back for this milestone event.
Event Overview
Friday afternoon from 4:30-7:00 p.m., put your dancing shoes on and join us under the big tent to enjoy Kool and the Gang at Party So Dear on Manchester Plaza (Mag Quad) to enjoy a party for all alumni.
From 7:30 – 10:30 p.m. will be our 10th Reunion celebration in the Reunion Party Village on Poteat Field where we'll get to see friends in our class while other classes celebrate nearby.
On Saturday, we will enjoy the Festival on the Quad, the Alumni Tailgate, and the WFU/Liberty football game. Football tickets will be sold directly by the ticket office beginning June 1. Registration for other events will open in July.
Since almost all of the events will be outdoors, please plan to dress for the weather. Keep checking this website for updated information as the weekend gets closer.
We look forward to seeing each of you for this memorable event!
Go Deacs!

Derrica Barbee
Brett Kaiser
Megan Massey Tang
Class of 2012 Reunion Committee Chairs
---
Class of 2012 Reunion Campaign
For the Class of 2012, we have already surpassed our $80,000 dollar goal, but we need the class to pull together to reach the 180 donor goal for reunion-year gifts to The Wake Forest Fund. If you haven't made your gift yet, please do soon! The campaign started July 1, 2021, and will continue through Homecoming Weekend.
$84,156 of $80,000
Learn about the Reunion Campaign »

Reunion Details
10th Reunion Celebration
7:30-10:30 p.m.
Reunion Party Village on Poteat Field
Join class members from our class for our reunion celebration. Enjoy food and beverages while catching up with friends. This event will take place immediately following Party So Dear.
Attire: Black & Gold Casual
2012 Reunion Committee Chairs
Derrica Barbee
Brett Kaiser
Megan Massey Tang
2012 Reunion Committee
Brett Bitove
Brittany Bordeaux
Austin Ferguson
John Giammarino
Cortney Holmes
Megan Bosworth Hoyt
Gabe Irby
Matt King
Susan Upton King
Allison Lyons
Kevin Murray
Roman Nelson
Jasmine Pitt
Kevin Smith
Kristen Bryant Smith
John Turner
Sam Perrotta Turner
Hamlin Wade
For Questions?
reunion@nullwfu.edu
Class of 2012 Howler