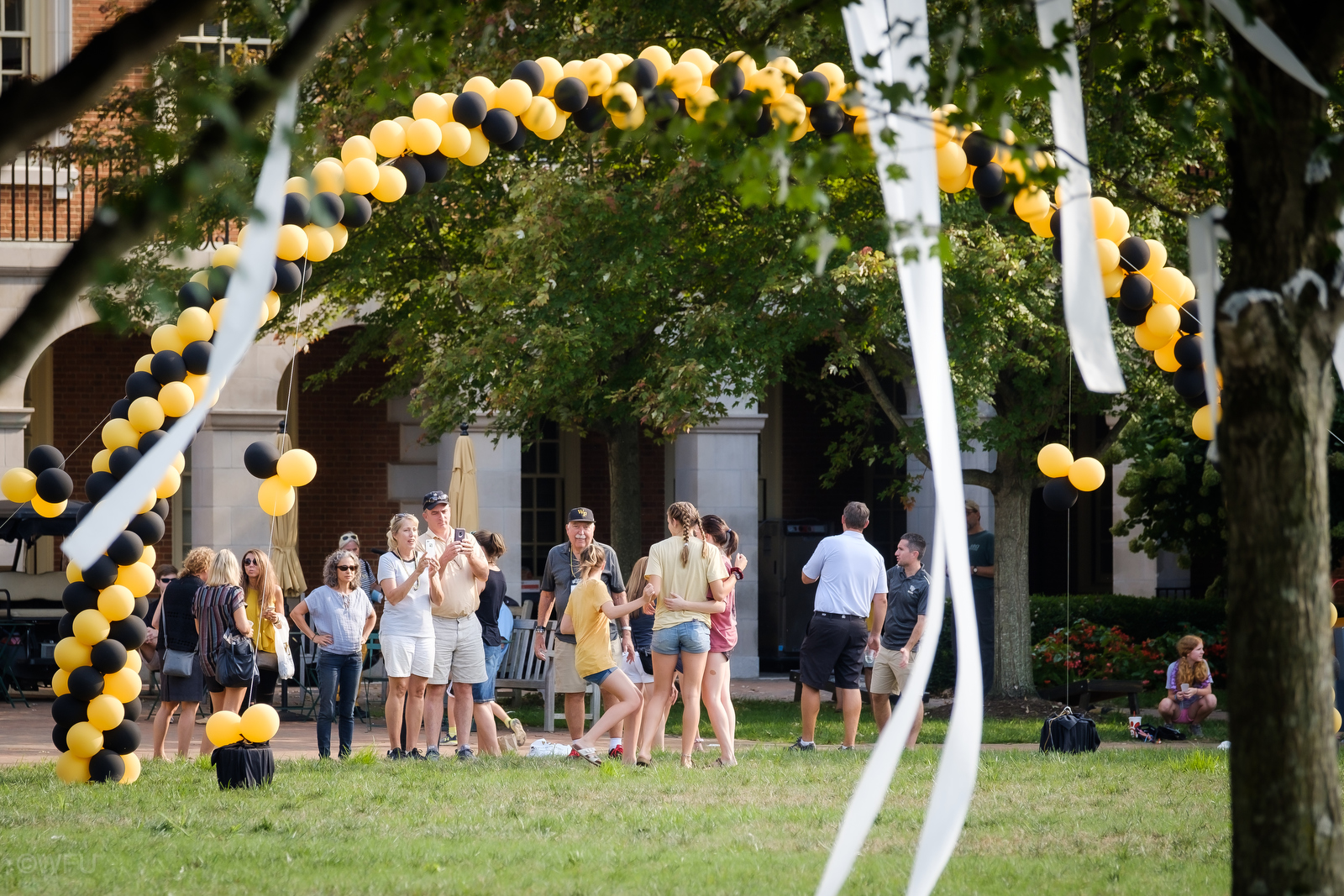 Football Game Ticket Registration
Although advanced registration for seating by class year is now closed for group seating, single game Duke tickets are still available from the athletics website directly on a first-come first-served basis. To order, please use this link or call the Wake Forest Ticket Office at 336.758.3322 ext 1.
All football tickets are digital and will be sent by end of day Wednesday, October 27 to the email address used to register. More details about mobile ticketing here. 
I Missed the Deadline To Register, Can I Still Come?
Online registration for Homecoming & Reunion Weekend closed at 9 a.m. on Thursday, October 21. If you missed the deadline, you will be able to register on-site when you arrive.
For reunion class parties, you may purchase tickets at the Homecoming Welcome Center (credit card or check accepted) under the Reynolda Hall (Manchester Plaza level) beginning at 11 a.m. on Friday, October 29 or at the door of the event (credit card or check only).
For the Alumni Tailgate, there will be a limited number of tailgate-only tickets available for purchase at the Welcome Center on Friday and Saturday, and at the Tailgate Area at the Fairgrounds on Saturday beginning at 1 p.m. For guests who do not have a parking pass, park in the LJVM parking lots and walk through the Main entrance to the fairgrounds (gate 1) to get to the tailgate. Please be advised that parking for this game will be $20. Cash and credit cards are accepted at all of the entry points to the public parking lots. Homecoming Tailgate Parking Map
For Party So Dear, you go directly to the Party So Dear entrances on Manchester Plaza (Mag Quad). There is no need to pick up tickets in advance.
For any free events (Festival on the Quad, receptions, Service of Remembrance, etc.), you are welcome to attend the events without pre-registering.
For tickets to the football game, you will need to contact Athletics at 336-758-DEAC.
Pre-purchased tickets for Golden Deacs, Reunion Class Events, and the Alumni Tailgate will be available for pick up at the Homecoming Welcome Center. On Friday, October 29, the Homecoming Welcome Center will be located under the tent at the Manchester Plaza level of Reynolda Hall from 11 a.m. – 10 p.m.  On Saturday, October 30, the Homecoming Welcome Desk will be located outside Reynolda Hall on Hearn Plaza during Festival on the Quad, from 9 a.m. – 12 p.m. All remaining tailgate packets will be taken to the entrance to Alumni Tailgate at the Fairgrounds beginning at 1 p.m. 
All football tickets are digital and will be sent by end of day Wednesday, October 27 to the email address used to register. More details about mobile ticketing here.
We look forward to welcoming you back home October 29! Go Deacs!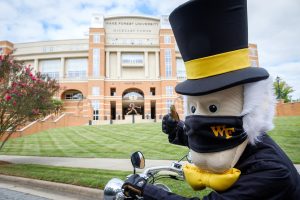 Public Health Guidelines for
Homecoming and Reunion Weekend
While proof of vaccination isn't required for guests, we encourage vaccinations for all. Over 97% of our campus community is vaccinated. We greatly appreciate the willingness of everyone in the Wake Forest community to adhere to and follow health and safety guidelines to support the safety of all Wake Foresters.
A limited number of buildings are open for the public: Reynolda Hall, ZSR Library, Benson Center, Wait Chapel and Davis Chapel and certain athletics buildings are accessible to visitors. 
Currently, masks must be worn in all indoor spaces. Much of what is being planned for Homecoming and Reunion Weekend is intentionally being held outside where masks are not required, particularly when food or drink is being served. 
Guests attending events held indoors where food and beverage are served will be asked to show either proof of COVID-19 vaccination or the results of a negative test taken within the prior 72 hours. (Alumni Council board meetings and Celebration of the Black Experience)
For additional information regarding steps the University is taking to minimize the risk of COVID-19 transmission on campus, we strongly encourage you to review the University's COVID-19 Notice.
We are grateful for your understanding and adherence to these protocols as we help create a safe experience for the campus community and visiting alumni.