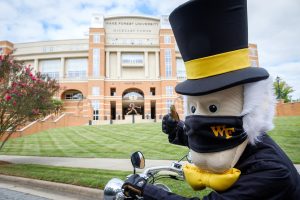 Public Health Guidelines for
Homecoming and Reunion Weekend
While proof of vaccination isn't required for guests, we encourage vaccinations for all. Over 97% of our campus community is vaccinated. We greatly appreciate the willingness of everyone in the Wake Forest community to adhere to and follow health and safety guidelines to support the safety of all Wake Foresters.
A limited number of buildings are open for the public: Reynolda Hall, ZSR Library, Benson Center, Wait Chapel and Davis Chapel and certain athletics buildings are accessible to visitors. 
Currently, masks must be worn in all indoor spaces. Much of what is being planned for Homecoming and Reunion Weekend is intentionally being held outside where masks are not required, particularly when food or drink is being served. 
Guests attending events held indoors where food and beverage are served will be asked to show either proof of COVID-19 vaccination or the results of a negative test taken within the prior 72 hours. (Alumni Council board meetings and Celebration of the Black Experience)
For additional information regarding steps the University is taking to minimize the risk of COVID-19 transmission on campus, we strongly encourage you to review the University's COVID-19 Notice.
We are grateful for your understanding and adherence to these protocols as we help create a safe experience for the campus community and visiting alumni.